Verified
December 2022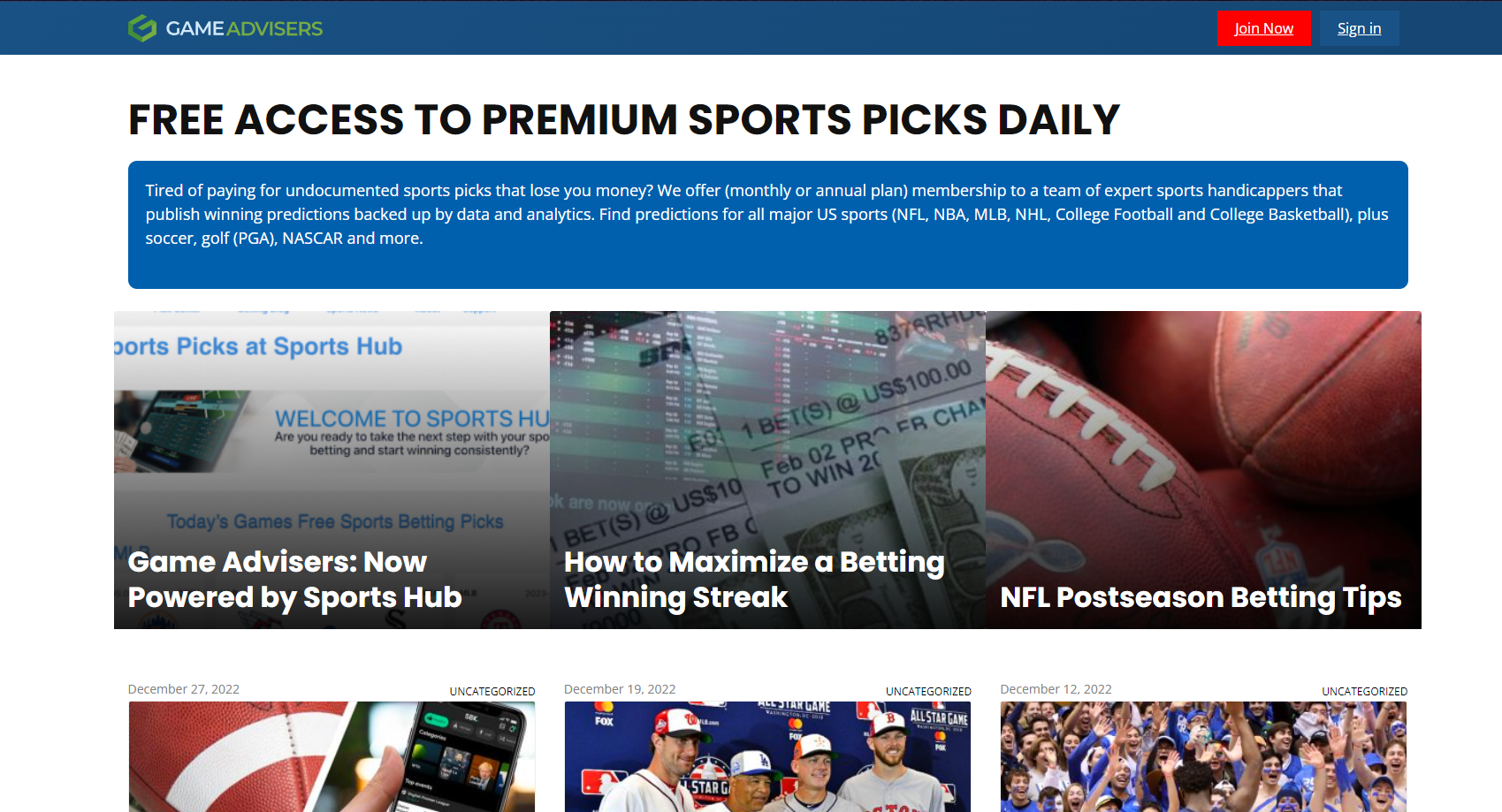 Pros
85+ years of combined sports betting industry experience

Revolutionary AI-powered sports betting software

Picks for a wide variety of sports and bet types

Tracks over 10,000 handicappers

Living, growing machine that will get better over time
Cons
Picks will not be available every day

Still cannot guarantee wins

Only one membership plan
Game Advisers is a unique picks system that uses AI to identify professional bettors. Combining this data with expert capper picks, internal picks, and stats, Game Advisers produces sharp picks for bettors.
Bettors will find that Game Advisers is different from most handicapping services. It all starts with almost a century of combined sports betting industry experience. Add in relationships in the industry as well as proprietary software that uses complex algorithms to identify sharp players, and you have a service that generates picks from the world's best sports bettors.
Bettors also love the transparency. Too many handicapping sites either make it hard to find capper's records or simply don't show them at all. Game Advisers tracks all 10,000+ handicappers and even ranks them according to a special algorithm. It's all there for the customer to see.
It's an easy-to-use, user-friendly handicapping site. Customers log into their premium membership accounts and easily find the day's picks as well as other pertinent information. There is also the Betting Academy which provides betting education information. Anyone that bets on sports can benefit from all that is provided by Game Advisers.
Handicapper Site Key Features
As mentioned, Game Advisers software identifies sharps, aka professional bettors. There are in the neighborhood of 10,000+ handicappers that are tracked on a daily basis. Customers that sign up get access to see how the professionals are betting. They also get access to in-house expert picks, picks from respected handicappers in the industry, and picks from game simulations.
Because of how the system works, bettors can expect between one and five picks on a given day. The AI picks system is very selective and all released picks must meet certain criteria. Picks will also depend on the season, the sport, and the information that is available.
Customers are notified via email and/or text when picks are released. They can also access picks by going directly to the Game Advisers website. The day's picks are displayed prominently when a premium member logs into their account.
The pricing for the Game Advisers system is pretty simple. Anyone can take advantage of the 7-day trial for $7. After the trial period, bettors can get access to Game Advisers picks for $139 per month. The system is also offered on an annual basis for $1399. Bettors can still try the product for seven days at $7. Annual buyers get two months free.
Signing up for the Game Advisers unique picks system is very simple. Buyers choose either the monthly or annual plan and agree to the terms and conditions. Payments are accepted via all major credit cards. Bettors set up their account, sign up for push notifications, and they are ready to roll.
When you trade in the stock market, who do you follow? It's a bit of a rhetorical question, but you follow the pros. It's the same in the sports betting industry. What if there was a way that bettors could gain access to how professionals bet? That's exactly why Game Advisers was created.
The revolutionary software system is able to identify sharp bettors. Game Advisers members can see exactly what sharps are betting on, everything from the sport to the type of bet. There is complete and total transparency too. All the pro cappers are ranked according to an algorithm. All records are there for members to see. Users can search and filter picks by league, sport, and handicapper.
It's a user-friendly system with access to customer service 24/7. Receive notifications for daily Game Advisers "advice system" picks. Log into your account and search through in-house expert and popular handicapper picks. You'll never need another handicapping service.