Verified
October 2022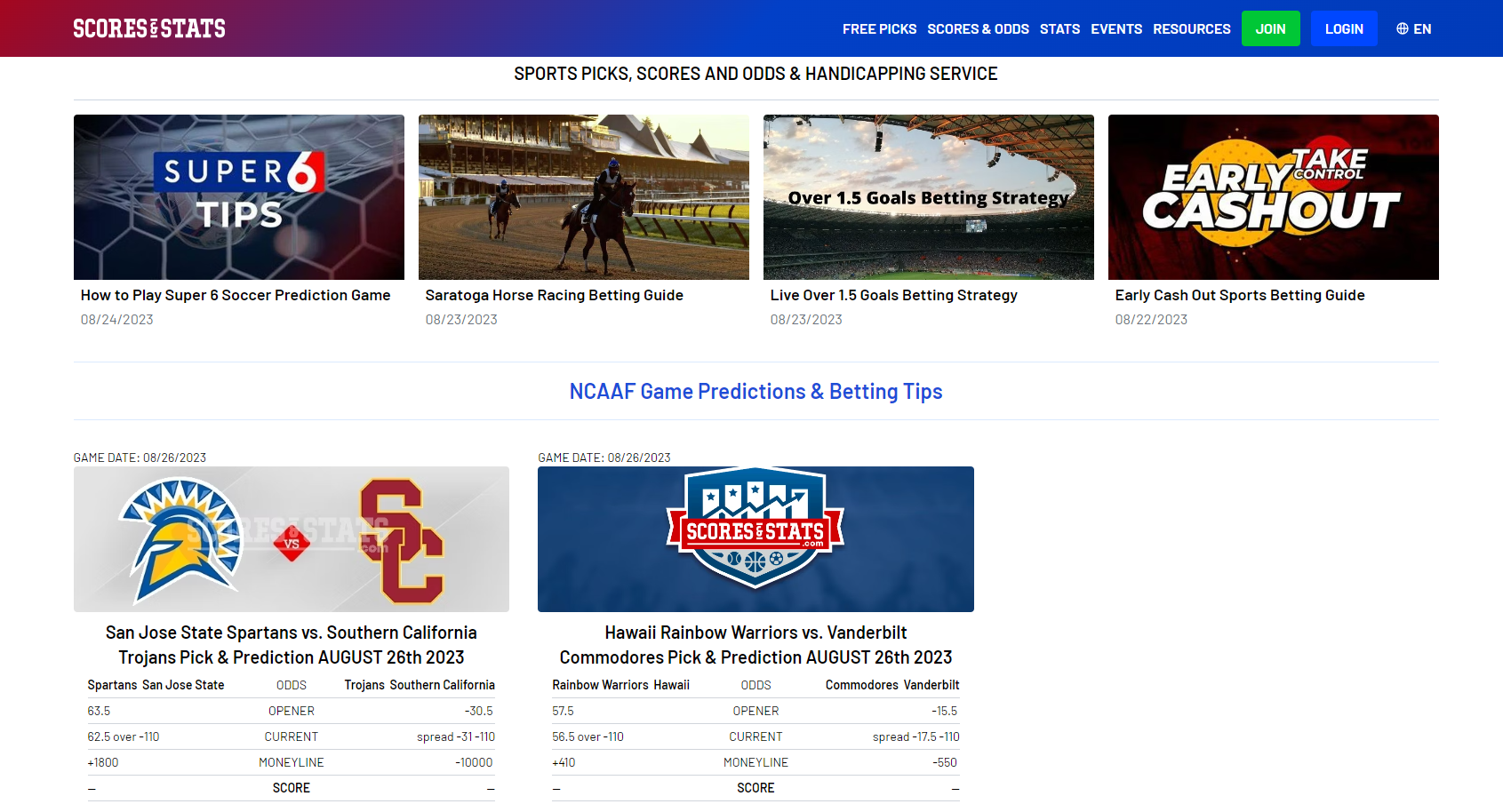 Pros
Easy to use, eye-catching user interface

Three different subscription levels

Expert customer service team

Easy to use, eye-catching user interface
Cons
Picks in some niche sports not available

No live chat feature
Scores & Stats offers bettors extreme value with consensus picks, computer-generated AI picks, and expert handicapper picks. Bettors choose from a variety of plans that provide over 400 monthly picks for just $45.
Scores & Stats has built itself into one of the premier handicapping services in the industry. Beginning as a sports betting news site complete with lines and odds from all the major sportsbooks, S&S has emerged as a major player in the sports handicapping market.
Subscribers can choose from three levels of service. Scores & Stats Premium offers bettors access to consensus reports on the pending games in the major sports – NFL, NBA, MLB, NHL, college sports, and soccer leagues such as COPA, English Premier, and many more. The reports are detailed and include pertinent information such as the number of tickets and the amount wagered on a variety of betting options.
Subscribers also have the option of adding expert handicapper picks and computer-generated sports picks for an additional fee. It's quite affordable and gives bettors access to hundreds of picks on a monthly basis. Scores & Stats maintains a high level of transparency. Subscribers can see exactly how handicappers are performing. At the end of the day, Scores & Stats provides everything a bettor could want or need – lines and odds for the top games, sports news, and betting picks.
Handicapper Site Key Features
When you go to the dashboard at Scores & Stats, you'll find a layout that makes the user experience very easy. Bettors can choose from consensus picks, AI picks, or handicapper picks. Bettors that choose expert capper picks will get the best in the industry. S&S has a few dozen of the top cappers in the industry. Bettors can see exactly how these handicappers rank on the S&S Leaderboard. Subscribers can also see cappers records in individual sports too.
For those that feel they can hang with the best in the business, Scores and Stats is always looking for talented handicappers in all sports. There is a link on the website where you can inquire about becoming a member of their expert team.
Bettors can easily navigate from sport to sport and find handicappers to work with. There are a number different ways to search for picks – by capper, by league, and by game. In addition, bettors can find a wealth of information about individual games, players, etc. Remember, Scores & Stats also provides lines and odds for all games and events. Bettors can also find a number of informational articles covering a variety of sports and betting topics.
The pricing at Scores & Stats is about as straightforward as it gets. New customers can sign up for S&S Premium and receive consensus picks for $9.99 per month. They can choose to pay for a whole year ($99) to receive a discount.
Buyers also have the option of adding either AI (computer-generated) picks or expert handicapper picks or buyers can add both. Adding one of the extra services makes the monthly investment $29.45 or $250 for the year. Adding both features brings the total to $5 per month or bettors can save and pay $350 for the entire year. That gives a bettor access to hundreds and hundreds of picks each month.
Setting up your account with Scores & Stats is a breeze. Enter a valid email address and pick your password. Then, decide if you want to pay for a full year or pay by month. Payments are accepted from major credit cards and are processed quickly. It's also easy to add a service once you become a subscriber. If you want to add AI picks, for example, after you have used consensus picks for a month, it's very easy to do so. S&S makes it very easy to manage your account and they also provide 24/7 customer service.
For today's modern bettor, Scores & Stats has it all. Consensus picks will tell bettors where the sharps are putting their money. Computer-generated picks use sophisticated algorithms developed by bettors with years of experience. Then, there are the expert handicapper picks. There is full transparency and the numbers speak for themselves.
Scores & Stats offers bettors of all skill levels access to quality picks from a variety of different sources all at great prices!