Verified
June 2022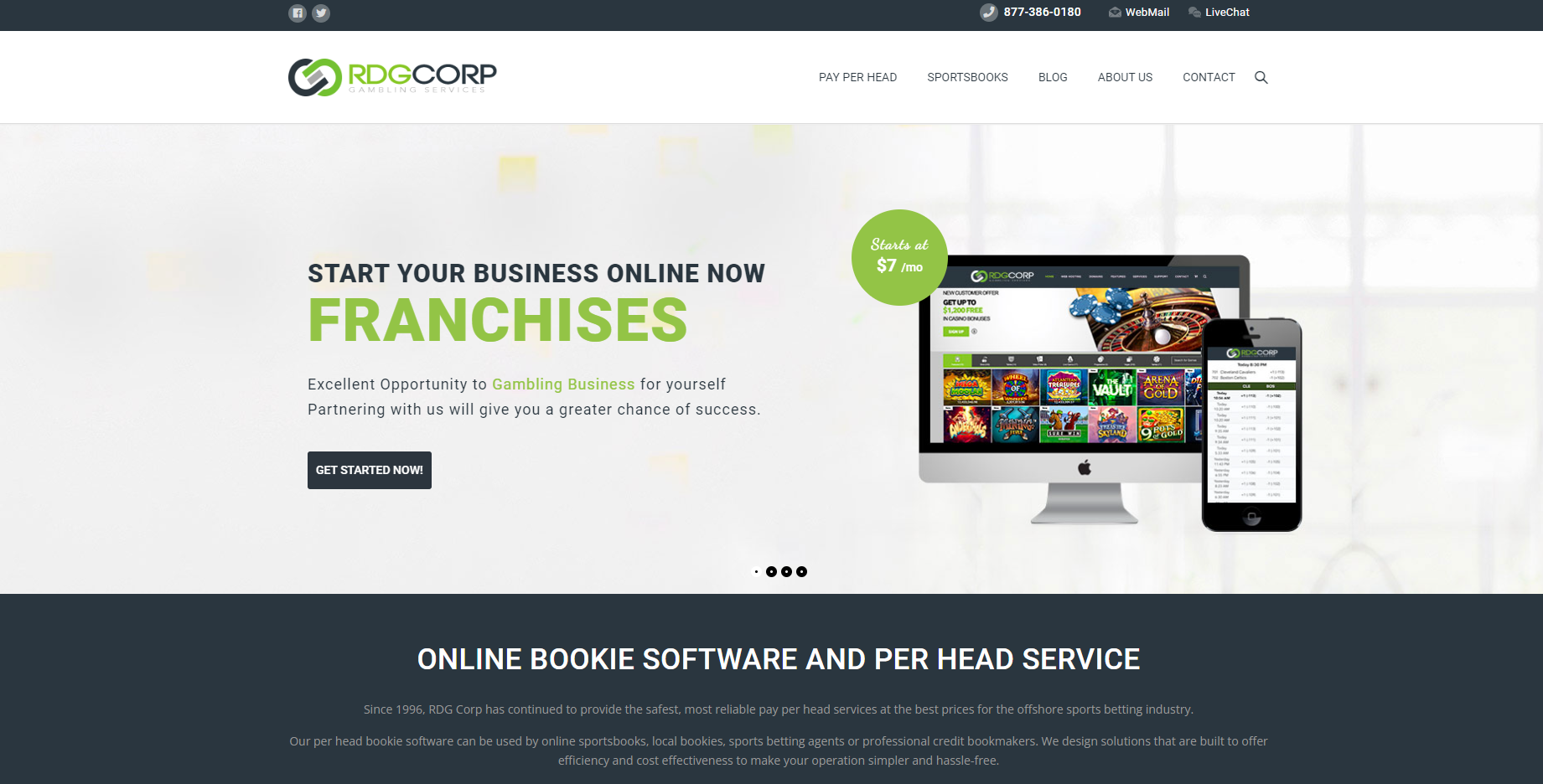 Pros
Robust software featuring a sportsbook, casino and racebook.

Utilization of AI to assist with mundane tasks, such as moving lines in real-time.

Live betting platform with thousands of weekly betting markets.

Plans are priced fairly and affordable for everyone (four week free trial also available).

State-of-the-art casino software, including virtual games and live dealer casino games.
Cons
The basic plan isn't suitable for most operations unless you just want straight betting markets.

Getting the most value requires learning about all of the available features (RDG Corp will help).

Customer service is only available in English and Spanish currently.
RDG Corp was one of the first pay-per-head (PPH) services to launch way back in 1996. They have been integral in helping thousands of bookies around the world launch an online presence.
Based out of Costa Rica, RDG Corp provides software solutions for sports bookies. Whether you want to run a basic PPH service where you can process sports bets or a complete white label gambling website with sports, casino games and a racebook, RDG Corp offers affordable turnkey solutions.
RDG Corp will optimize their in-house software to cater to everyone. Easy integration will have your site up and running within hours, allowing you to start making money immediately if you have clients.
The software suite developed by RDG Corp is suitable for new bookies, established bookmakers, sports betting agents and more. You can even operate a professional credit sportsbook where you handle the payments on your own, which is ideal for local bookies collecting cash and wanting anonymity.
RDG Corp offers a "basic sports betting solution", which is far from basic. Essentially, the basic plan will allow anyone in the world to operate a state-of-the-art sportsbook with hundreds of betting markets. Your clients will be able to wager on straight betting markets, play casino games and bet on horse races.
There's also a "premium sports betting solution", which is a complete turnkey solution for bookies that are wanting to take the next step by offering a fully functional casino and racebook. Casino games are a huge profitmaker for bookies and you can customize all of the options (bet limits, game availability, etc.). The premium solution also offers the ability to have live (in-play) betting and props (player, team, game).
Your clients will be able to wager on over three million sports fixtures annually.
Nothing is worse than running into a problem and being unable to contact support. RDG Corp provides 24/7 support through email (in[email protected]), telephone (877-386-0180) or a live chat system.
No question is too small or simple. Feel free to contact RDG Corp for anything you need assistance with. They also will help with general inquiries if you're looking to enter the bookmaking industry.
RDG Corp is the leading PPH provider in the industry. They cover every aspect of starting a sportsbook. They'll assist clients with launching. They also will help with designing your website. They even offer new clients the chance to purchase brandable domain names if you're in the market for that.
Some of the highlights include reliable hosting, DDoS protection, automated backups (daily), advanced auto line mover that utilizes AI to ensure you maintain the edge over your clients, free customer support and integrated cashier system, allowing bookies to accept deposits using cryptocurrencies.
A unique feature is called "Franchises", which allows experienced bookies or agents to license software to run their PPH shop. If you prefer targeting prospective bookies, running a PPH shop is right up your alley. Your friends can become "agents" and find sports betting clients, while you collect a commission.
RDG Corp starts at just $7/head (basic) or $10/head (premium) and there are volume discounts.
The first step to get started is contacting the team at RDG Corp. It's recommended to fill in the web form with as many details as you can about the type of operation you want to run. An experienced member of the RDG Corp team will contact you back within hours to present you with the best solutions.
These guys have been in business for close to three decades now. They've assisted thousands of clients with different goals and targets. Let them construct the best solution based on your needs and you'll be glad you did. After a plan is agreed upon, RDG Corp will help you launch within hours.
It's also a good idea to have at least a couple clients ready to start betting. They'll help you get everything set-up, including betting profiles, limits, restrictions, cashier system and all of the other features. One of the best features about the RDG Corp PPH software is that it's easily customizable to fit your needs.