Verified
July 2023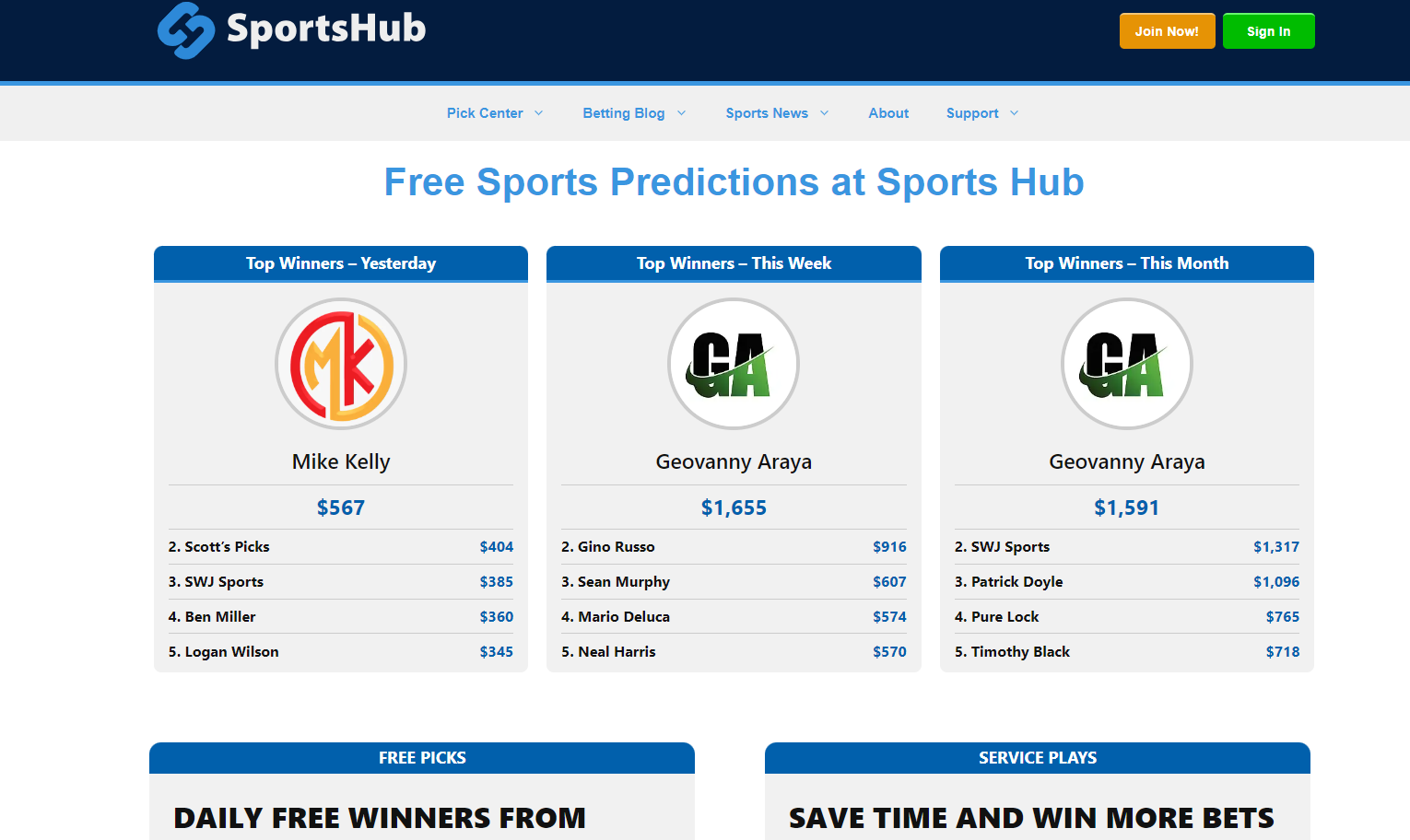 Pros
Real professional sports picks from industry experts.

All results are documented on real-time leaderboards and handicapper profile pages.

Feature-rich software (consensus betting data, sports betting pools and more).

The "Computer Picks" profile releases AI-generated sports picks based on exclusive data.

Expert sports betting guides teach new bettors how to bet, find value and more.
Cons
Limited picks are released outside of the major sports.

Some handicappers are long-term losers currently, but we can fade them.

Finding the information you want can be a bit cumbersome for new members.
Sports Hub (SportsHub.com) is a new revolutionary sports handicapping service. They have enlisted a growing team of professional sports bettors to provide their members with winning sports predictions.
Are you tired of paying money for sports picks that turn out to be consistently unprofitable? You're not the only one. Sports Hub makes it simple to follow your favorite sports handicappers. More importantly, all of the results are documented in real-time, allowing anyone to research how a handicapper is performing.
Don't know who to follow yet? Sports Hub has an exclusive software suite that makes it easy to track how the experts are performing across multiple time periods (daily, weekly, monthly, all-time, etc.).
There are dozens of sports picks released daily on Sports Hub covering all of the major sports. Some of the experts specialize in specific sports, such as the NFL, NBA, UFC, soccer and even tennis.
Sports Hub also publishes lots of unique content to help new sports bettors win. There are sports betting guides explaining how to bet on all major sports. There are also free sports picks released daily, which can be accessed by everyone. Bookmark the homepage to ensure you don't miss any of the action.
Handicapper Site Key Features
Sports Hub has the best handicappers in the business releasing daily plays. There's a leaderboard that's updated in real-time showing the results from every handicapper. There are filters allowing members to analyze the top cappers based on time periods, sports, bet types and more.
For example, you can use the leaderboard to see the most profitable NFL handicappers or which cappers are winning the most money betting on MLB. Another great feature is the "Games" section, which lists all of the day's sporting events. From this page, you can select the games you want to bet on and see all of the available predictions for that event. There are filters to make finding the games you want even easier.
A unique feature are the consensus reports available to Sports Hub members. They have connections to some of the world's biggest sportsbooks, allowing them to gather betting data. The consensus reports will allow you to analyze what the public are betting on and what the sharps are betting on.
Sports Hub also runs pools for members using their robust software. Members can compete against the experts in sports betting pools with big prizes up for grabs throughout the year. There are also computer picks generated by an AI robot that was developed by the Sports Hub coders, which targets sharp plays.
With Sports Hub being new to the scene, the service is currently free of charge. That isn't going to be the case for long, so head over to Sports Hub and open up a members account while you still can.
You can visit Sports Hub from this review and open an account using your email. You need to use a real email address so that you can verify your account. The members section is packed with features, but it's all self-explanatory. Your first step should be adding the sports you want to bet on to your "My Favorites".
It's also recommended to set-up notifications so you never miss getting on a bet.
Sports Hub is a one-stop shop for your betting needs. They have a huge amount of professional cappers releasing plays every single day and members have already been reaping the benefits.
The betting guides, sports betting analysis and insights will make you a better handicapper if that's what you're interested in. However, if you're busy and just want to make money, you can tail the top cappers and cash in. To give you an idea of the profit potential, the top 20 cappers in the last seven days have all made $300+, with the top guy winning $750 on $100 flat bets.
This is a real sports handicapping service where you won't be bombarded with false advertisements claiming you'll make millions by following them. Sports Hub is a no nonsense handicapping service, allowing sports fans to bet like the pros. We guarantee you'll make money following the top cappers.
You can contact Sports Hub by email ([email protected]) or using an online contact form.