Verified
April 2021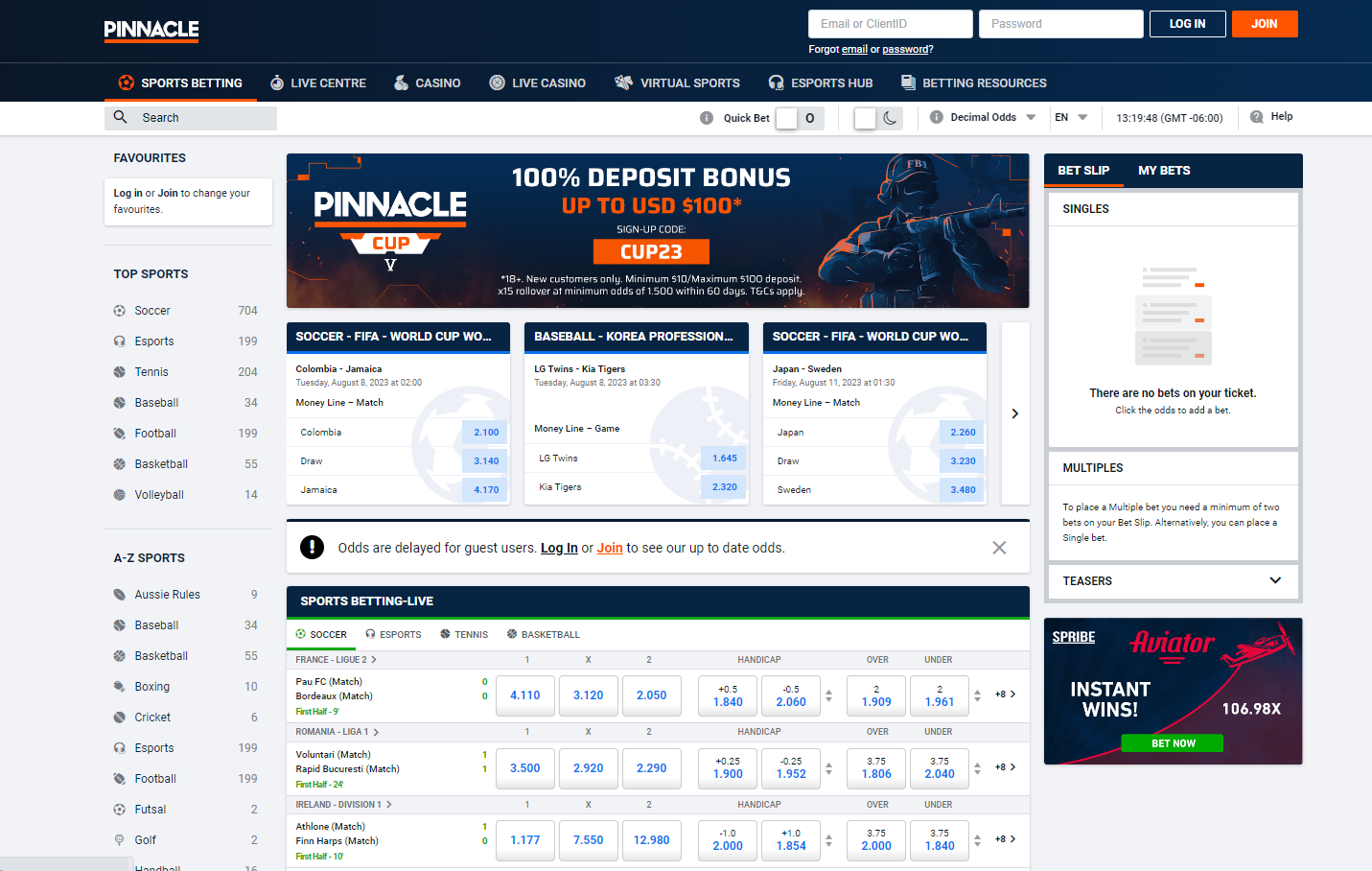 Pros
Massive selection of sports bets

Higher betting limits than most sportsbook

Consistently offers the best odds in the industry

Casino has over 2,500 different slot games
Cons
No deposit bonus or other promotions

Do not serve American customers

No betting app
Pinnacle is the ideal sportsbook for sports fans with its huge betting board. What bettors find are some of the best lines and odds in the industry as well as a player-friendly casino featuring over 2,500 slots.
Pinnacle is well-known throughout the industry as it has been around since 1998. It has a strong reputation and was once the premier destination for high rollers. To this day, Pinnacle has some of the highest betting limits among all sportsbooks. When betting NFL sides, for example, bettors can wager a maximum of $30,000.
The betting board is massive with just about every sport you can think of and the board includes sports from around the world. Pinnacle is also known as a market mover with the sharpest odds in the business. When its odds move, the rest of the industry takes note.
Pinnacle was one of the first sportsbooks to offer odds on e-sports and has been a trendsetter in the industry. While some find the lack of bonuses as odd, others realize that the reduced juice and better odds more than make up for zero promotions. There are numerous ways to fund accounts and most withdrawals are free and fast. Pinnacle does not allow US bettors.
Bonuses, Promotions, Incentives
Interestingly, Pinnacle has no deposit incentives and no other promotions. These types of bonuses are virtually a given in the industry. Sportsbooks utilize these promotions to entice bettors to sign up and to keep them as customers. Pinnacle offers bettors no bonuses; however, the sportsbook more than makes up for it.
Instead of generous deposit bonuses and other contests and promotions, Pinnacle offers bettors some of the best odds available. Bettors looking to plunk down large bets at great prices find the benefit of having an account at PInnacle.
Pinnacle offers a number of deposit options including credit cards, e-wallets, and Bitcoin. Almost every deposit option is an available withdrawal method. Nearly two dozen different currencies are accepted, including US dollars even though Pinnacle doesn't allow American bettors. Bank wires have no minimum or maximum and are processed in 24 hours. Pinnacle has some of the fastest payout times in the industry.
With over two decades as a well-respected player in the market, Pinnacle has a niche and continues to work it. They sacrifice bonuses and instead offer bettors the best odds around. They also have some of the highest betting limits in the industry, often taking million dollar-plus wagers. They are also known for their reliable payouts, which are processed at some of the fastest speeds among sportsbooks.
There is plenty to notice at Pinnacle Sportsbook. It starts with the gigantic selection of bets available on the betting board. When you add in over 2,500 casino games, the modern gamer can get lost at Pinnacle. Players have multiple options for funding their accounts and just about as many ways to get paid. Pinnacle is known for its prompt payouts.
What is obviously missing from Pinnacle's offerings are bonuses. The book chooses to forgo any incentives and in return offers customers reduced juice on bets. Bettors, especially high rollers, will find high betting limits. Those looking at jumping on a wager with a five- or six-figure wager will likely find Pinnacle ready to accept.